*NEWS UPDATE*
The JMT Wilderness Conservancy has won a $340,000 federal grant for Sierra Nevada red fox recovery

WE ARE A NON-PROFIT ORGANIZED IN 2018
Caring for the wilderness, wildlife and waters
along the John Muir Trail

(est. 1915)




in the high Sierra Nevada of California


for people to enjoy in the centuries to come.
The JMT Wilderness Conservancy is a nonprofit public charity that is tax exempt under IRC section 501(c)(3).
JMT BASICS
The John Muir Trail runs from Yosemite Valley (4,035' elevation) approximately 213.7 miles
to the summit of Mt. Whitney (14,505' elevation).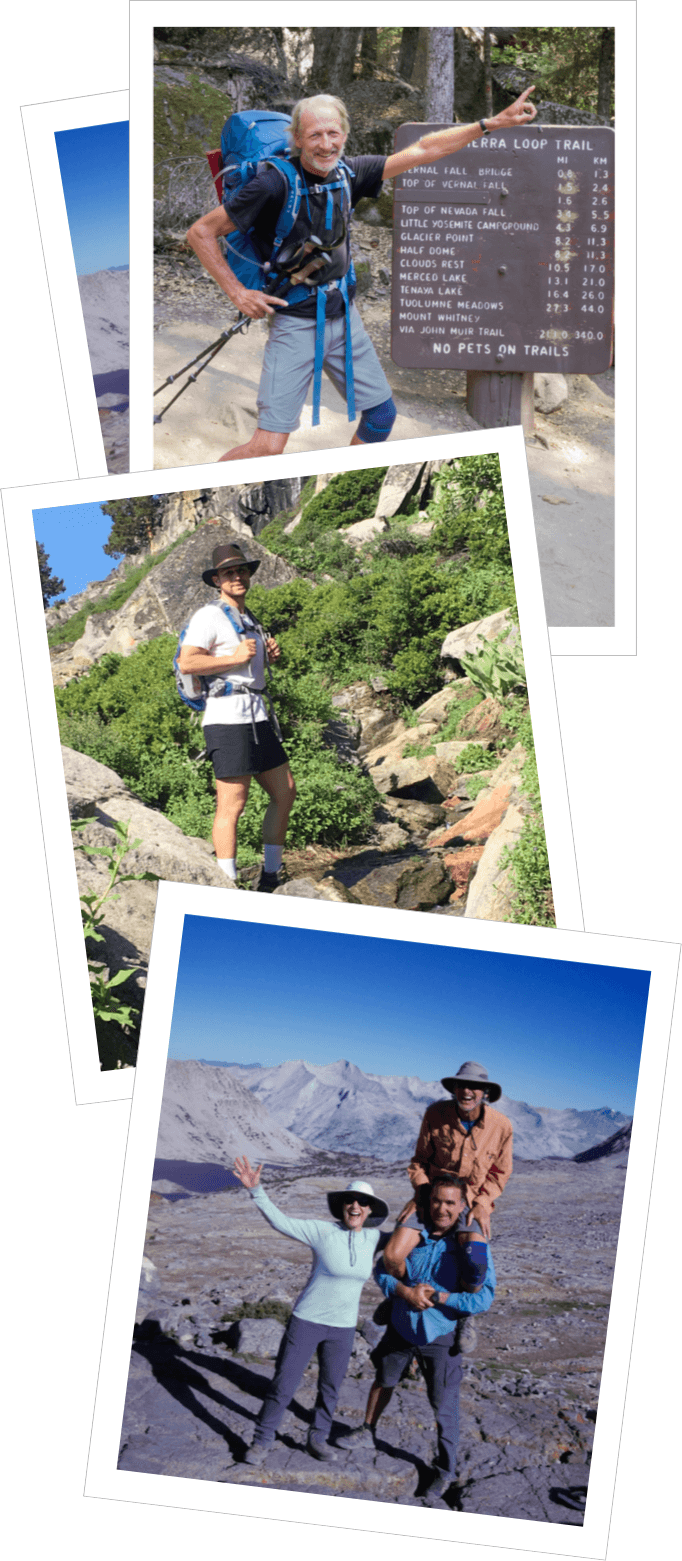 DATE ESTABLISHED:
May 17, 1915 by a bill in the California State Legislature, signed by Governor Hiram Johnson
FIRST THRU-HIKE:
July 1, 1908 (LeConte Expedition)
FULL LENGTH:
213.7 miles – From the terminus at the LeConte Memorial Lodge (now known as the Yosemite Conservation Heritage Center) to the summit of Mt. Whitney.
PUBLIC LANDS TRAVERSED:
Yosemite National Park
Sequoia-Kings Canyon National Park
Inyo National Forest
Sierra National Forest
Devils Postpile National Monument
Ansel Adams Wilderness
John Muir Wilderness
HIGH SIERRA PASSES TRAVERSED:
Cathedral Pass (9,700' elevation)
Donohue Pass (11,056' elevation)
Island Pass (10,205' elevation)
Silver Pass (10,895' elevation)
Selden Pass (10,880' elevation)
Muir Pass (11,995' elevation)
Mather Pass (12,100' elevation)
Pinchot Pass (12,130' elevation)
Glen Pass (11,978' elevation)
Forester Pass (13,180' elevation – the highest pass traveled in America)
Mt. Whitney (14,505' elevation – the tallest peak in the lower 48 States)
TOTAL CLIMB (traveling south): 46,000 feet
TOTAL DESCENT (traveling south): 38,000 feet
THE JOHN MUIR TRAIL NEEDS OUR HELP
Our Mission
Most of us are alarmed by what we read and hear about our changing climate. Nearly every community in America is managing its impacts, whether by wildfire, rising sea levels or extreme weather. Yes, we must stop whatever is causing global warming and adapt quickly to the changes we all face. But equally important, we must restore the natural systems necessary to sustain us, especially those in our oceans, rivers and high mountains. Stop climate change. Adapt quickly. Restore our complex natural systems to a sustainable balance. All three are connected. All three are essential.
Our Conservancy's mission is grounded on the second and third legs of this three-legged stool- restore wilderness along the region traversed by the JMT; and adapt to the impacts of climate change in the region.
Why a non-profit conservancy?
The JMT wilderness has never had a conservancy focused on the broader health of this remote and critical region. Nearly every national park, forest or trail in America has a non-profit foundation or conservancy working to raise funds and organize volunteers for its long-term conservation. Yosemite Conservancy. Yellowstone Park Foundation. National Forest Foundation. The list goes on and on. The federal agencies tasked with managing these natural assets, e.g the National Park Service and the United States Forest Service, have always depended on private philanthropic support to supplement their public funding and resources. While the federal budget is constantly under review and stress from administration to administration, these private dollars support major conservation efforts and critical capital improvements, and fund special initiatives that may be outside the agencies' budgets.
Why now?
Ironically, the creation of the John Muir Trail in 1915 through some of the most remote wilderness in America was a call to action for a national conservation policy. Traveling 213.7 miles from Yosemite Valley to the summit of Mt. Whitney, the JMT traverses nearly a dozen highest elevation passes across the Sierra Nevada and is a construction marvel. Opening this magnificent landscape to public access was thought to inspire advocacy and activism across the nation. It worked.
Yet it came at a cost. A little more than 100 years later, human-caused degradation is apparent along the 220-mile length and 20-mile width of the mountainous wilderness defined by the JMT. The effects of climate change are compounding it. This is the highest crest of the Sierra Nevada, the source of our fresh water, the lifeblood of immense agricultural production below its watershed, precious wildlife habitat, and exquisite natural beauty—some say mile-for-mile the most beautiful in the world.
Visitor use along the John Muir Trail has risen with such sustained volume that it risks degrading the natural processes of the wilderness itself. The JMT has become a "bucket-list" destination. We have very little data to rely on. From 2014 to 2015, the National Park Service reported reservation data for JMT permits increased 242%. Quotas and lotteries have been imposed at trailheads and the termini in an attempt to measure and moderate the number of hikers and backpackers on the JMT. In 2017, nearly 45,000 people entered the lottery for an overnight permit at the southern JMT terminus, Whitney Portal, only 24% of which received a permit. Applications for JMT hikes departing from the northern terminus, Yosemite Valley have a daily denial rate of 95% or higher. This data does not include the people who come in to the region from a dozen lateral trails from both the east and west sides, or the many more who enter for "day use" where no permit is needed. With only limited enforcement possible, it is believed that too many simply proceed without any permit at all.
The Conservancy would like to add resources to the sustainable management of the wilderness in order to support the rise in public demand. The broader area of the JMT Backcountry including the lateral access trails is extensive and requires substantial federal resources and staffing to assess and manage. The JMT Wilderness Conservancy hopes to provide essential private funds and volunteers to support the federal agencies in regionally-coordinated broad-based restoration and visitor use ma