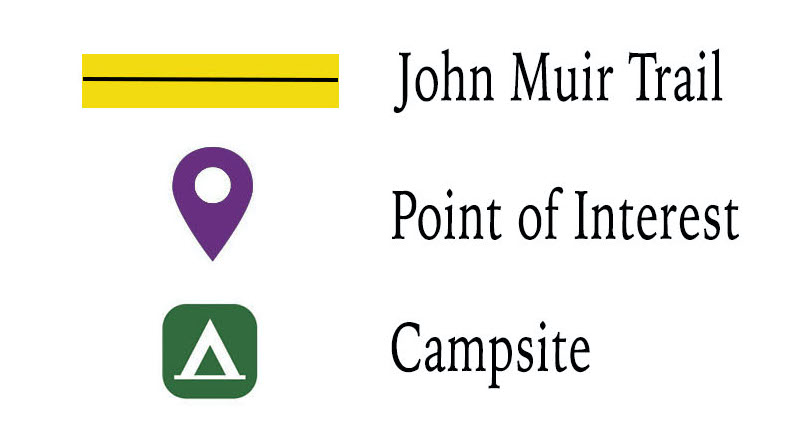 The JMT Wilderness Conservancy, in collaboration with the National Park Service Historic American Landscapes Survey (HALS), researched the historical maps and records, and integrated the best geo-spacial information available today, in order to map an authentic and more geo-spacially accurate map of the John Muir Trail.  The map here shows the route that best combines the historic spirit of the JMT's original planners along with current environmental and managerial concerns.  When you click on a Point of Interest, you may find one of John Dittli's magnificent photographs with a text description, an historical photograph with a narrative, or an anecdote or story about a particular JMT feature.  We are regularly adding more POI pins.  Please visit our map often to explore the updates.
A C K N O W L E D G E M E N T S
Our sincere appreciation must be extended to Tom Harrison. As you focus our interactive map to its base layer, you will find the Tom's map of the region, with its beautiful icons, rich graphics and numerous place names. This base map is copyright 2019 Tom Harrison Maps, and is licensed to the Conservancy on a non-exclusive perpetual basis. Thank you Tom, for your generous support!
 www.tomharrisonmaps.com
The Conservancy also wishes to thank board member Elizabeth Wenk for the use of her waypoints and campsite locations on this map, as well as her GPS data for the JMT's placement on the topography. The data she collected tirelessly over many years adds to the accuracy of the route and is a valuable aid to any backpacker on the JMT. For GPS coordinates, detailed botanical and geological information, JMT history and lore, and more, please see: John Muir Trail: An Essential Guide to Hiking America's Most Famous Trail (5th Edition) ©2018 Elizabeth Wenk, Wilderness Press, Berkeley CA.    www.wildernesspress.com

A final acknowledgement to our advisory board member, John Dittli for use of his stunning photographic images, and his partner Leslie Goethals who so capably supports its licensing and administration. John has hiked and photographed the John Muir Trail and surrounding landscapes for over 30 years. We feel very privileged to have use of it throughout our website and on the points-of-interest on this map.   For those of you who would like a bound collection, please consider purchasing Walk the Sky, Following the John Muir Trail (2nd Edition) © 2018  John Dittli Photography, Companion Press, Bishop CA.   www.johndittli.com